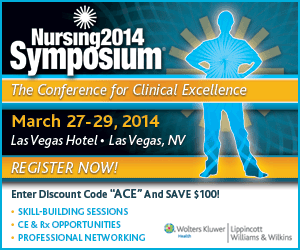 We want to know about special nurses who are doing great things within the profession and within the healthcare industry as a whole. You can email your submissions for our new blog feature, Nurses on the Move, to ClinicalEditor@NursingCenter.com.
Three new "never events" CE collections have been added!

We are pleased to announce the addition of a new journal! The International Journal of Evidence-Based Healthcare is a fully refereed journal that publishes original scholarly work from the international Joanna Briggs Institute and Collaboration. The current issue is available free online now through 3/15/14!
On our blog, Show Me The Evidence – AACN has announced 5 evidence-based recommendations for the Choosing Wisely campaign. As a nursing professional, I am proud to see AACN collaborate on this important initiative!

HIV has evolved over the past 30 years from a virtual death sentence to a chronic and manageable disease. Discover how nurses in the United States have helped to change the epidemic by reading Nursing in the Fourth Decade of the HIV Epidemic.
AJN, American Journal of Nursing Share:




(2.5 contact hours)
Presented through a case study, this article addresses the clinical characteristics of frailty, strategies to prevent this geriatric syndrome, and recommendations for care. Take some time to read Frailty in the Older Adult: Will You Recognize the Signs?
The Nurse Practitioner: The American Journal of Primary Health Care Share:




(2.1 contact hours)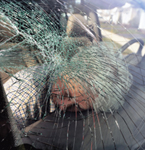 In Managing Patients with Severe Traumatic Brain Injury, review primary and secondary brain injuries, nursing assessment and initial treatment, medical and surgical management, postoperative care, and long-term management for patients with severe TBI.
Nursing2014 Share:




(2.3 contact hours)
Review our Recommended CE list on autoimmune hepatitis, new drugs 2014, dyspnea assessment on unit admission...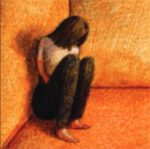 With a thorough assessment, women with posttraumatic stress disorder (PTSD) following childbirth can be diagnosed correctly and receive appropriate treatment, promoting a better outcome for both mother and baby. Don't miss PTSD After Childbirth: Early Detection and Treatment.
The Nurse Practitioner: The American Journal of Primary Health Care Share:



To be successful as leaders of both the discipline and the organization, nurse executives need sophisticated frontline managers who have the knowledge and skill to translate this demanding agenda into everyday practice. Lean more about Relational Work: At the Core of Leadership.
Nursing Management Share:





As nurses, we shouldn't work while fatigued because it can damage our health and impair our ability to provide safe, competent, empathetic, and conscientious care to our patients. Read more in Running on Empty? The Facts about Nursing Fatigue.
Nursing2014 Share:



Browse our Recommended Readings on transporting sedated patients, assessing suicide risk, arranging a family conference, and more.

Read the articles in the latest Featured Journal online only on NursingCenter. The Featured Journal gives you the opportunity to get acquainted with the kind of coverage and clinical information it has to offer. Get to know our journals. The current Featured Journal is....