---
To ensure delivery of NursingCenter eNews to your inbox, please add, Editor@NursingCenter.com to your address book
---
July 2, 2009
Dear Subscriber,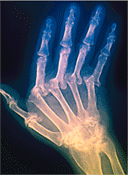 July is Juvenile Arthritis Awareness Month. The Arthritis Foundation defines juvenile arthritis as "any form of arthritis or arthritis-related condition that develops in children or teenagers who are less than 18 years of age." They report that approximately 294,000 children under the age of 18 are affected by pediatric arthritis and other rheumatologic conditions.
The most common form of arthritis in children is juvenile rheumatoid arthritis. While it is understood to be an autoimmune disease, its exact cause is not known. The most common features of this disease are joint inflammation, joint contracture, joint damage, and change in growth. Some children may complain of joint stiffness following rest or a decreased activity level and weakness in muscles around involved joints. Diagnosis can be difficult and may occur only after other disorders have been ruled out.
Learn more by exploring the articles in More Resources. Also, don't miss our next enewsletter about transplant issues, along with the latest articles and CEs.


Lisa Bonsall, MSN, RN, CRNP
Clinical Editor

Find NursingCenter.com on Facebook
Learn 6 tips for saying no assertively and understand those instances when it is prudent for you to do so. Be sure to read Legally Speaking…When Can You Say NO?
(1.8 contact hours) Nursing2009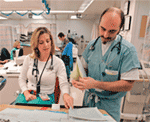 Do nurses and physicians work together effectively? Find out what residents think by reading Original Research: 'It Depends': Medical Residents' Perspectives on Working with Nurses.
(2.9 contact hours) AJN, American Journal of Nursing
Gain a better understanding of antiresorptive agents and anabolic agents used to improve bone formation by exploring Pharmacotherapeutic Management of Osteoprosis and Osteopenia.
(2.9 contact hours/2 advanced pharmacology hours) The Nurse Practitioner: The American Journal of Primary Health Care
Review our Recommended CE list on acute ischemic stroke,surgical patient with cardiac problems, Warfarin therapy management...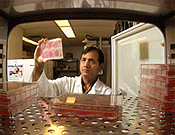 What is ahead in the United States with regard to influenza A(H1N1)? Review several possibilities foreseen by experts in influenza pandemics by reading EMERGING INFECTIONS: Influenza A (H1N1): A Wake-Up Call.
AJN, American Journal of Nursing
Discover the benefits of an automated time and attendance system by examining TECH UPDATE: An Automated Solution for Managing Your Workforce.
Nursing Management
Learn about 2 new scientific statements from the American Heart Association in Heart Failure: An Update. The first addresses prevention of heart failure and the second describes methods to reduce the risk of hypertension in the home healthcare setting.
Home Healthcare Nurse
Browse our Recommended Readings about the use of mirrors in critical care nursing, non-Hodgkin's lymphoma, tips and strategies for managing delirium, and more.
New Patient Education collection!
This collection from our journal library has been selected and reviewed by NursingCenter's Clinical Editor, Lisa Bonsall, MSN, RN, CRNP, to provide you with reliable tools for educating your patients about common disorders and their treatments. Purchase any of our patient education articles for just $1.99 each!
View our Patient Education Collection now!

Catheter-Associated UTI Knowledge Center: Improving Practice, Improving Outcomes
Catheter-associated UTI can seriously hinder your patient's recovery and add days to their hospital stay. Recent changes in Medicare reimbursement related to hospital-acquired, catheter-associated UTI has become an issue for nursing staffs. Learn strategies to prevent and treat UTI in your patients through free CE credit, webcasts and more...
Visit this Knowledge Center Now.
Read the articles in the latest Featured Journal
online only on NursingCenter. The Featured Journal gives you the opportunity to get acquainted with the kind of coverage and clinical information it has to offer. Get to know our journals. The current Featured Journal is...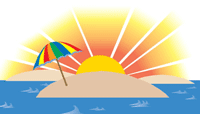 Educate your patients about how to treat severe sunburn:
Drink plenty of water.
Apply a cool, wet cloth to the area three or four times a day or take a cool bath.
Take acetaminophen (Tylenol) as directed.
Don't break blisters. If they break on their own, wash the area two to three times a day with soap and water and lightly cover it with gauze.
Don't use first-aid creams or sprays.
Stay out of the sun.
If you have eye pain or feel confused or dizzy, call 911 or get to the nearest hospital emergency department.
Read more in PATIENT EDUCATION: Severe Sunburn.
A generic form of Plan B has been approved for women 17 years of age and younger, by prescription only.
Nucynta (tapentadol) 50, 75, and 100 mg immediate-release tablets are now available for the relief of moderate to severe acute pain in patients 18 years of age and older.
---
--SPONSORED LINKS--
---
Advance your career with an online degree
Bring quality care to your organization with an online BSN or Patient Safety degree from the University of Illinois.
---
---
---
---
---
Email
this NursingCenter eNews to your colleagues and invite them to join now. They, too, will receive great content as well as free articles and discount offers available only to subscribers.
Want to make sure that you keep receiving NursingCenter eNews? Be sure to add Editor@NursingCenter.com to your address book!
NursingCenter respects your privacy and will not share your information with other companies or organizations without your permission. View our Privacy Policy.
If you no long wish to receive NursingCenter eNews, click on the "Unsubscribe" link above.
Forgotten your username or password? Please contact Customer Service at CustomerService@NursingCenter.com.
---
http://www.nursingcenter.com
Copyright © 2009 Wolters Kluwer Health | Lippincott Williams & Wilkins. All rights reserved.
323 Norristown Rd., Suite 200, Ambler, PA 19002